...Riding home from Petco yesterday my phone makes the little dinging sound that it makes when I have a message. I check it and sure enough I have a picture message, and it is from my husband. This is the image that I received.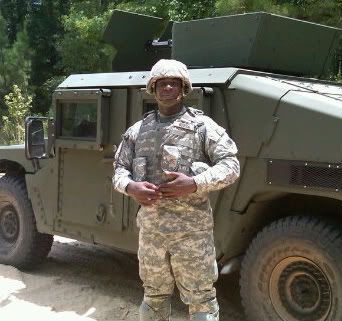 That is when it hit me. Him going back to the Middle East is going to happen and it is happening soon. His official "retraining" has begun. This training session is 2 weeks long, and he will be home on July 31st. He will be leaving again sometime in August for another 3 weeks, September for 5 weeks (obviously going into October), and he will be going to Ft. Bliss Texas on October 25th and from there he goes to Qatar.

While this picture makes me proud of my handsome soldier it also evokes a profound sadness of memories that will be created that he will not be a part of, tears that will be shed that he will not be able to wipe away, warm baby hugs he will not wake up to, and bad 8yo boy jokes he will not be the butt of.

It will be hard for us left behind, but it will be so much harder for him having to go and missing out on so much....